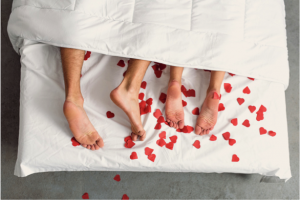 Your body hasn't felt "alive" in some time, due to the natural aging process, your last pregnancy, or other factors. Because your sexual health is the last thing on your mind—after children, your spouse, and work—you haven't done anything about your lagging satisfaction. Until now, that is.
Today, you know better. You have more options than ever before for revitalizing your intimate life. From non-surgical vaginal rejuvenation to the O-Shot®, Aguirre Specialty Care specializes in accessible treatments that afford life-changing benefits with minimal to no downtime.
To boost your bliss this Valentine's Day and beyond, here are three research-backed vaginal rejuvenation treatments worth considering:
O-Shot
This all-natural treatment boosts sexual satisfaction with platelet-rich plasma (PRP), a concentrated portion of your own blood that is rich in stimulating growth factors and nutrients. In one efficient office visit, we prepare the O-Shot and then inject it into your clitoris and vaginal wall. Because it's all-natural and uses your blood—not synthetic ingredients—there's no risk of an adverse reaction. With no downtime, the O-Shot can increase sexual desire, orgasm strength, and much more.
FemiLift™
This non-surgical laser treatment can increase vaginal tightness and sensation and improve urinary stress incontinence. With no downtime, FemiLift can stimulate new collagen production and strengthen the supporting ligaments surrounding the bladder. For enhanced benefits, the O-Shot can be performed in conjunction with FemiLift in a procedure called the LEO®, or Laser Enhanced O-Shot.
Geneveve™
For more intense and easily achieved orgasms, as well as improved tightness of the vaginal entrance, we offer Geneveve, a radiofrequency treatment with no downtime. Geneveve takes only 30 minutes to administer but provides long-lasting improvements to your sexual function and satisfaction—up to a year or longer. In a clinical study, nearly 90 percent of patients reported significant and sustained tightening, sensation, and satisfaction up to 12 months after treatment, including enhanced sexual enjoyment.
Put some vavoom into Valentine's Day and give yourself the gift of vaginal rejuvenation. To discover your ideal treatments, call 303.322.0500 or click here to schedule a consultation today.