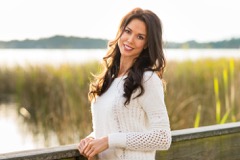 When you look in the mirror, what do you see? Over the years, our glowing skin and full-cheeked facial volume of our youth are replaced by forehead lines and crow's feet. These kinds of changes can make you feel insecure about your appearance, and can have a profound effect on your day-to-day life.
With the Vampire Facelift® you can restore lost facial volume, improve the appearance of uneven skin tone, and smooth rough complexion for a refreshed and youthful new look. This innovative treatment combines PRP injections with dermal fillers to refresh your appearance without the need for surgery or excessive downtime. PRP, or Platelet Rich Plasma, is a naturally occurring substance found in your own blood. It contains a variety of growth factors that are extremely beneficial for repairing damaged skin. When paired with dermal fillers, the two treatments work in tandem to reinvigorate your look.
The Vampire Facelift is completely non-surgical and patients can return to regular everyday activity immediately following the treatment. Results appear over the course of a few months and can last anywhere from nine months to two years, depending on the person.
Feel uplifted and confident when you look in the mirror! Call Aguirre Specialty Care at 303.322.0500 today to schedule a consultation in Denver!