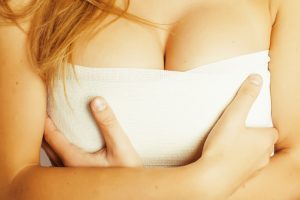 You could call it the ultimate recycling experience—using one part of your body to enhance another area. It doesn't get any "greener" than that, does it? The Vampire Breast Lift® is one such treatment, harnessing the renewing powers of your own blood to rejuvenate and accentuate your breasts. We've been formally trained to perform Vampire Breast Lifts, and we've been thrilled to provide this natural technique for improving breast shape, skin laxity, and sensation for numerous women.
Any procedure that has the word "vampire" in its title sounds a bit scary, we know. But don't let the name fool you. Vampire Breast Lifts are actually quite comfortable and efficient treatments. Once we draw your blood, our team uses a centrifuge to separate the potent platelet-rich plasma (PRP), a concentrated portion of your blood that contains healing growth factors that stimulate cellular renewal. With a trained eye and skilled hand, we strategically inject PRP into specific areas of the breast, depending on your unique concerns. Because PRP is natural, your results will appear gradually in the weeks following treatment, with optimal rejuvenation within two months.
One of the many things we love about Vampire Breast Lifts is that it eliminates the possibility of adverse side effects because it uses your own body, not synthetic substances. Aside from the usual, temporary effects of injections, which can include stinging, swelling, and bruising, PRP has absolutely no contraindications since it's your body doing the work, not an implant.
Ready for an all-natural lift this summer and beyond? Schedule your consultation today by calling 303.322.0500
or clicking here.