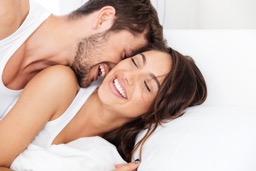 It's probably safe to say that improving your sex life is not at the top of your to-do list right now. We get it. How could it be while your head is swimming in an endless stream of present-buying, party-planning, and tree-trimming? But we also wouldn't be doing our job if we didn't point out one important fact: With Valentine's Day around the corner, now is the time to start planning for a better sex life. And that includes considering two easy treatments that can seriously boost your pleasure in the bedroom: FemiLift™ and the O-Shot® at Aguirre Specialty Care.
With no surgery and minimal downtime and pain, FDA-cleared FemiLift can tighten your vagina to seriously amplify sexual gratification for both you and your loved one. Mothers who've given birth, take note: FemiLift can also reduce symptoms of urinary stress incontinence from childbirth by strengthening the supporting ligaments around your bladder and urethra! Using a vaginal probe, FemiLift targets laser energy into the full circumference of the vagina to promote collagen production and a remodeling of the vaginal wall. For maximum, long-lasting results, we recommend a series of three treatments spaced four to five weeks apart.
Another easy way to elevate your sex life is The O-Shot. It's ideal for women of all ages who have difficulty becoming aroused or enjoying sex. The O-Shot uses Platelet-Rich Plasma (PRP) which is extracted from your blood and injected into the clitoris and the anterior vaginal wall. After a few weeks, stem cells and tissues grow and regenerate, adding volume and increasing blood flow and sensitivity in the clitoris and vaginal walls.
Since both FemiLift and The O-Shot provide gradual results, planning ahead is key. To discover if FemiLift or The O-Shot are for you, call us for a consultation at 303.322.0500.