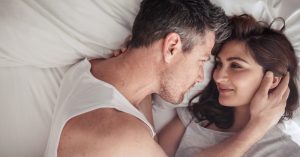 Got 30 minutes? That's about all it takes to increase sexual satisfaction for you and your partner. At Aguirre Specialty Care, we're thrilled to introduce a new non-invasive procedure called Geneveve™, which gently tightens the tissue of the vaginal entrance (introital region). Without any downtime or invasive measures, Geneveve can help you attain tighter, firmer introital skin and more easily achieved and intense orgasms.
It sounds too good to be true, but it's not! Like all of Dr. Oscar A. Aguirre's treatments, Geneveve is backed by research. In clinical studies, up to 90% of women who had Geneveve reported long-lasting improvement—significant tightening and sensation—up to 12 months after treatment.
Geneveve uses gentle, precise cryogen-cooled monopolar radiofrequency (CMRF) energy to stimulate new collagen growth in the vaginal entrance. Geneveve's unique cooling technology allows it to heat collagen deep within tissue while keeping the surface of the skin cool, ensuring a comfortable treatment. There's no downtime with Geneveve, but you'll need to avoid sexual activity for 48 hours following your treatment. For enhanced results, this treatment can also be easily combined with other effective treatments at Aguirre Specialty Care, such as FemiLift™, which resurfaces the entire interior of the vagina, and the O-Shot®, which enhances clitoral stimulation.
Because your satisfaction matters, give us a call at 303.322.0500 or fill out our online form to request a personal consultation today.