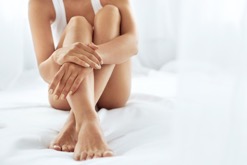 Let's face it—being a mom is one of the hardest jobs there is! While you love it, maybe you don't love the toll pregnancy took on your body. It's the New Year, and a perfect time to indulge, and splurge on yourself. Mommy Makeovers have risen in popularity, but they usually leave out an important option: Your intimate health! As part of the Real Mommy Makeover™ in Denver, CO, Dr. Oscar A. Aguirre offers the Intimate Makeover™.
What differentiates Aguirre Specialty Care from others is the intimate procedures offered by Dr. Aguirre. The Intimate Makeover can address vaginal looseness, vaginal prolapse, sagging or enlarged labia, and decreased sensation and pleasure. You can also find relief for urinary and bowel issues that commonly occur following childbirth, including urinary urgency and frequency. A Real Mommy Makeover at Aguirre Specialty Care can also remove excess fat and loose skin in the abdomen, pubic area, hips, and thighs. Dr. Aguirre can improve sagging breasts, unwanted changes in breast size, skin issues, and wrinkles or lines.
The best part about getting your Mommy Makeover at Aguirre Specialty Care is being able to customize your procedure. You can choose from over fifteen procedures and treatments to comprise your makeover. Many of these can be combined so that you can undergo fewer procedures with one recovery period. Some of the Mommy Makeover procedures produce fast results, depending on your elected services, and many benefits can be enjoyed long-term or on a permanent basis.
If you're ready to get your pre-pregnancy body back, boost your self-confidence, and improve your sex life, contact us at 303.322.0500 for a consultation with Dr. Aguirre today.