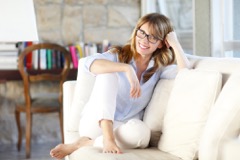 At Aguirre Specialty Care we understand that deciding to undergo a vaginal rejuvenation treatment can be overwhelming at times, and knowing which treatment is right for you even more so. Due to the individualized nature of our treatments, each procedure is specially designed to produce different benefits, and target different parts of the intimate area, which can make your selection process feel confusing and time-consuming. However, there's no reason to let this scare you. As an expert in intimate aesthetics, Dr. Oscar A. Aguirre can help you decide exactly which treatment is perfect for you!
One of our most popular vaginal rejuvenation options is the O-Shot®, a safe and effective treatment that restores sexual function and sensation to your vagina with little to no downtime. The O-Shot utilizes Platelet Rich Plasma, or PRP, to regenerate the diminished cells and tissues that may be leading to your lack of arousal, sensitivity, and libido. PRP occurs naturally in each patient's blood, and contains numerous essential proteins and growth factors that are beneficial for aging skin all over the body, including intimate areas. After an O-Shot, patients often report increased sensation as well as stronger and more frequent orgasms.
Aguirre Specialty Care also offers labia tightening, laser vaginal rejuvenation®, and designer laser Vaginoplasty®. Depending on your specific concerns, Dr. Aguirre may suggest one of these as the most prudent option for improving the function and aesthetic appearance of your vagina.
Sexual health plays a crucial role in women's confidence and self-esteem. Schedule your consultation in Denver, CO today to learn more about how vaginal rejuvenation treatments at Aguirre Specialty Care can benefit you!