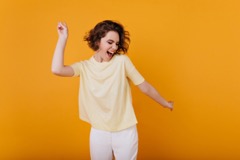 Our goal is to provide you with the best possible treatments and results, so we are thrilled to report that CoolSculpting®, our non-invasive fat reduction treatment, was recently named by NewBeauty as one of the "Best In-Office Treatments of the year!
In case you're not familiar, NewBeauty is the aesthetic industry's magazine of choice, considered to be a leading authority and quality purveyor. And to give you some perspective, CoolSculpting has received a NewBeauty award for 6 consecutive years! So if you've been thinking about making improvements to your contours, and you're intrigued by non-invasive fat reduction, this may be the encouragement you need to pursue a CoolSculpting consultation with us!
One of the reasons we decided to offer CoolSculpting is to provide you, our amazing patients, with a healthy range of treatment options so you can reach your goals comfortably and at a pace that's right for you. CoolSculpting reduces excess pockets of fat by freezing them away with non-invasive cooling panels. There's little to no downtime, so you can receive treatment in our office and then quickly return to your usual activities no worse for the wear. CoolSculpting also affords gradual, natural-looking improvements in the months following treatment, so you can look forward to easing into your slimmer and trimmer look.
While every person responds differently to treatment, many patients enjoy optimal results with a series of CoolSculpting treatments. We can help you determine your best course of treatment during your consultation. To learn more, please call 303.322.0500 or request a consultation today.