Stress is one of those things in life that sneaks up on you. You may think you're feeling totally fine, for example, until you find yourself suddenly barking at your partner for the slightest thing. (Sound familiar?) If you're feeling on edge, the good news is that you're not alone! We're in this pandemic together, and we can help each other deal gracefully with the stress it brings by reminding ourselves of proven coping skills for boosting our strength and resilience.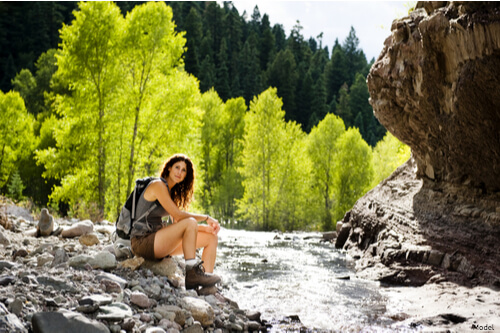 Intimacy
Urogynecological health is my vocation, so I would be remiss to not mention the healing powers of sex. During this unprecedented time of self-quarantine, many couples who are at home together are now finding they have more time for sexual intimacy. This is a marvelous thing! For starters, sex is a wonderful stress reducer! It gets your heart rate up, boosts endorphins and helps relax your muscles for a total-body-wellness experience. Let's not forget the emotional comfort sex affords, either. I also should mention the importance of practicing safe sex for those who are not in a committed relationship. Although social distancing is not conducive to sexual relations, humans are resourceful. Let's leave it at that!
The great outdoors.
Whether it's hiking, walking or biking, the Colorado trails are calling you. You know why getting outside is good for you, so we'll spare you the details — like how walking reduces your risk for almost every disease and boosts your lifespan. (Okay, so we mentioned two reasons!)
Getting help when you need it.
As a urogynecologist, I provide several essential services here at Aguirre Specialty Care, including treatments for urinary incontinence and vaginal prolapse. For this reason, my office remains available as a resource for those experiencing worsening difficulties and need urgent attention. We are also available for phone or virtual consultations so you may begin your plan of care following the COVID-19 epidemic. To this end, if you find that your life is impaired because you are not able to walk or hike, due to severe urinary incontinence, for example, or if you are struggling with intimacy because of pain during sex or other disabling symptoms, it's time to visit me for a consultation. I have devoted my life to helping people reclaim their total body wellness and vitality, and I'm here for you today!
To learn more about our treatments at Aguirre Specialty Care, please call us any time at (303) 322-0500 or request a consultation online today!
— Dr. Aguirre