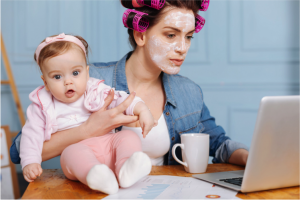 You're not alone if you can't believe it's almost Thanksgiving! With Black Friday around the corner, we bet you're already bracing yourself for the annual onslaught of shopping, entertaining, and indulging. These festive (and, let's be honest, frantic!) holiday traditions have a sneaky way of leaving mommies across America utterly spent.
You work hard to make the holidays joyful for others. We want to remind you that YOU deserve some serious YOU time! A perfect way to treat yourself is with a Real Mommy Makeover™ at Aguirre Specialty Care.
Unlike any other makeover you've had or heard about, the Real Mommy Makeover will truly change your life. There are secrets about motherhood that few people talk about—side effects from childbirth and aging, such as urinary incontinence, vaginal looseness, labial stretching, weakened sex drive, excess tummy fat, stretch marks, sagging breasts…the list goes on and on.
For years women have silently accepted these unpleasant changes. At Aguirre Specialty Care, our mission is to help restore optimal wellness and satisfaction to your intimate life. The Real Mommy Makeover is tailored to your exact needs and concerns, restoring vitality and comfort to your body so you can live fully and confidently.
We can help you look and feel better than you've ever felt before. To design your perfect makeover, call 303.322.0500 or click here today.