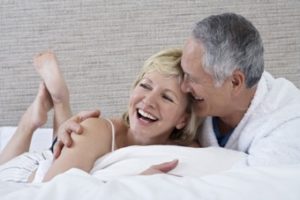 Women who were treated surgically for stress urinary incontinence (SUI) not only reported an improvement in their SUI symptoms, but they also gained improvement in their sexual function, according to a new study presented at the annual meeting of the Society of Gynecologic Surgeons.
While researchers aren't exactly sure why women experienced sexual improvement, this finding establishes a link between pelvic floor disorders and sexual function, which is an important discovery for doctors and patients alike! For patients, this study may provide reassurance for those who are nervous about undergoing surgery to improve their SUI symptoms. It may comfort them to know that their symptoms may be related, and that surgery may benefit a wider range of concerns than previously thought. For doctors, this promising finding is a step closer to understanding the causes of sexual dysfunction, and the relationship between pelvic disorders and sexual function. Ultimately, studies like this help us to better serve you!
As a Fellow of the American College of Obstetricians and Gynecologists and board-certified by the American Board of Obstetrics and Gynecology, with a sub-specialty certification in Female Pelvic Medicine and Reconstructive Surgery, I am passionate about providing the most advanced and effective surgical and non-surgical treatments for stress urinary incontinence, sexual disorders, and much more.
I am eager to help you live a higher quality of life! To learn more about treating your stress urinary incontinence or sexual dysfunction, please don't hesitate to call 303.322.0500 or request a personal consultation online today!
—Dr. Aguirre
By the way, we've moved! Our new state-of-the-art facility is at 11953 Lioness Way, Suite 101, in Parker, CO. Conveniently located off I-25 and Lincoln Ave., less than 2 miles from Sky Ridge Medical Center, this state-of-the-art facility will be home to Milestone Surgery Center, a new state-licensed, Medicare-certified, and Joint Commission-accredited ambulatory surgery center serving many surgical specialties, including plastic surgery, in the Denver area.