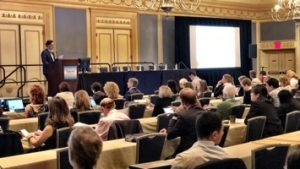 In April, Dr. Oscar A. Aguirre served as a co-chair for two education panels at the annual American Society for Laser Medicine and Surgery (ASLMS) Conference. ASLMS is the world's largest scientific organization dedicated to promoting research, education, and the highest clinical care standards for medical laser treatments.
As a world leader in urogynecology and women's intimate aesthetics, Dr. Aguirre has dedicated his life to advancing feminine wellness by utilizing the most effective technologies and furthering the education and expertise of other wellness providers. To this end, Dr. Aguirre was thrilled to chair two panels at ASLMS, which not only presented well-established laser technologies for vaginal rejuvenation (such as FemiLift™ CO2 laser skin resurfacing), but also new energy delivery systems.
Dr. Aguirre kicked off the two panels with a brief introduction detailing the history of lasers in women's health. Panel participants included gynecologists, urogynecologists, menopausal medicine specialists, urologists, dermatologists, plastic surgeons, and aesthetic gynecologists. After the presentations, which detailed clinical outcomes and long-term follow-up for each treatment, Dr. Aguirre and his co-chair gave concluding remarks on the science behind energy-based vaginal rejuvenation. He also presented in a workshop titled "Scientific Basis of Devices on Women's Genitourinary Health," where he discussed vulvar and vaginal CO2 laser technology.
Dr. Aguirre's participation at ASLMS is a testament to his unwavering commitment to advancing the field of female intimate wellness and aesthetics. We are proud to work with Dr. Aguirre as he helps women achieve their best every day with the leading treatments and highest level of expertise and care.
To learn more about the services at Aguirre Specialty Care, call 303.322.0500 today for a consultation.