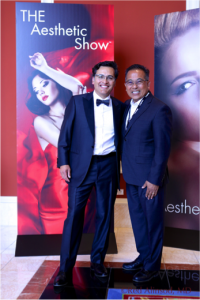 We're thrilled to announce that our very own Dr. Oscar A. Aguirre was a finalist for two awards at THE Aesthetic Show™! Out of more than 900 submissions, Dr. Aguirre was honored to be a top-three finalist in two categories—Best Botched Patient Revision and Best Feminine Rejuvenation Enhancement.
THE Aesthetic Show is an annual educational conference in Las Vegas that brings together the most prominent aesthetic practitioners in the country. Featuring the latest and greatest in technology, procedures, and products, THE Aesthetic Show also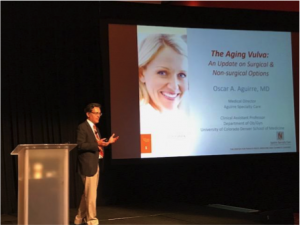 provides important talks on topics at the forefront of the aesthetic industry. During the conference, Dr. Aguirre moderated a symposium on the art of feminine rejuvenation, and presented two lectures—"Patient Selection for Vaginal Rejuvenation: The Key to Success," and "The Aging Vulva: An Update on Surgical & Non-Surgical Options." He was also featured in an interview on AestheticTV.
Helping patients realize optimal intimate health and aesthetics is Dr. Aguirre's primary goal at Aguirre Specialty Care. We are thrilled that Dr. Aguirre and Aguirre Specialty Care are consistently recognized, and we are honored to serve you! Call 303.322.0500 or click here to schedule your consultation today.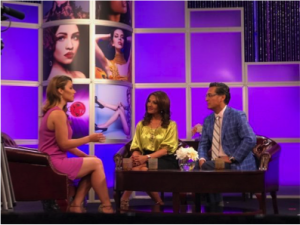 Featured in photos from top to bottom: Dr. Oscar A. Aguirre and Dr. Red Alinsod, inventor of ThermiVa® and fellow nominee in the category Best Feminine Rejuvenation Enhancement at THE Aesthetic Awards.
Dr. Oscar A. Aguirre presents "The Aging Vulva: An Update on Surgical & Non-Surgical Options."
Dr. Aguirre being interviewed for AestheticTV.