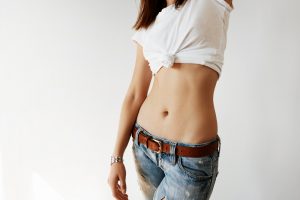 The latest beauty research in Cosmo's recent issue confirms what we've known for ages, that a positive mental attitude is a key player in your health and beauty. At Aguirre Specialty Care, we commit every day to making you feel your happiest and most beautiful with expert care and acclaimed surgical skill.
Now that warmer weather is approaching, it's a good time to get your body back in shape. For many, the best route to trimmer contours is a tummy tuck. At Aguirre Specialty Care, we've helped thousands of satisfied clients achieve slimmer contours with the ASC Abdominoplasty, a state-of-the-art liposuction technique that combines a traditional tummy tuck with liposuction.
One of the most exciting benefits of an abdominoplasty is the ability to not only tighten loose, sagging skin, but to also repair damaged abdominal muscles. Performed in an outpatient setting with tumescent anesthesia (which numbs and swells the targeted fat), Dr. Oscar A. Aguirre ensures your comfort without the risks associated with general anesthesia. This procedure trims your abdomen and helps you achieve slimmer contours by using liposuction on your flanks, upper abdomen, and hips.
After the procedure, patients can gradually resume normal activity. One thing that can speed up healing (while lessening bruising) is post-care massage therapy. This service is just part of the unparalleled care we provide for our patients.
A flat abdomen is yours if you want it. All you have to do to get started is call 303.322.0500
to schedule your consultation!