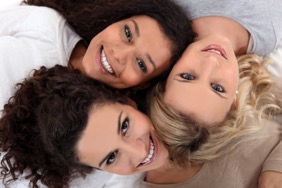 Remember when "aging gracefully" was a dirty little secret that meant discreet consults with plastic surgeons and facelifts done on the down low? Luckily, those awkward days are a distant memory. Thanks to Botox® and a bevy of other easily-administered and accessible cosmetic treatments, we're thrilled to say there's no shame in getting "work" done anymore to look your best. In fact, today's cosmetic treatments are celebrated as we playfully defy our age with festive Botox parties!
It couldn't be a better time to book your very own Botox party at Aguirre Specialty Care. For starters, we're offering every party host 10 free units of Botox. And signing up is a cinch. Simply pick any week day and enlist your favorite five to ten friends. We'll do the rest as you and your companions sit back and enjoy refreshments, special group savings, and a free gift.
From book groups to jewelry parties, we'll take any excuse for a jolly night out, right? Why not schedule a day-in of beauty at Aguirre Specialty Care? Schedule your Botox party in Denver today by calling 303.322.0500.