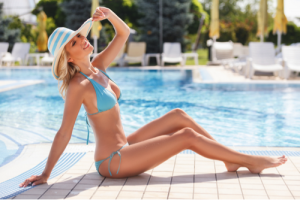 The summer sun is heating up quickly and it won't be long until your body is on full display in summer shorts and dresses. At Aguirre Specialty Care we want you to be confident and comfortable flaunting your bikini no matter what your summer plans are with the help of LipoLife laser liposuction!
Sometimes simple diet and exercise just don't seem to do the job, and with a busy schedule it can be difficult to keep up a time consuming workout plan without seeing consistent results. Lipolife aids in the process of fat elimination by utilizing safe and effective suction technology to give your body a slim and defined new contour. This innovative treatment is laser assisted, meaning the process involves both laser and suction simultaneously for improved efficiency and a reduced recovery period. LipoLife also enhances skin tone and texture for healthier-looking skin that you'll want to show off.
LipoLife is most often used on the abdomen, love handles, flanks, and back. During your consultation Dr. Aguirre will walk you through the procedure and ensure that you are completely satisfied with your results.
Strut your stuff with confidence this summer! Schedule your LipoLife laser liposuction consultation today by calling 303.322.0500.