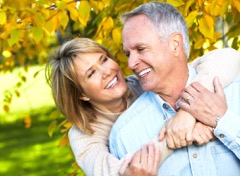 Functional and aesthetic problems with the intimate area can have a major effect on your life. Inadequate sexual satisfaction, arousal, and desire are frustrating conditions and can be uncomfortable to discuss with friends and family, leading to diminished confidence and self-esteem. At Aguirre Specialty Care we're here to tell you that you're not alone. Millions of women throughout the country suffer from a lacking sex life, the causes of which are mostly out of their control. However, with a LEO®, or Laser Enhanced O-Shot, in Denver there is a solution!
The LEO may be perfect for any adult woman who struggles with diminished vaginal sensation, vaginal looseness, or urinary incontinence, as well as those who have never had an orgasm. The treatment combines our traditional O-Shot® with FemiLift™ non-surgical vaginal tightening for a complete intimate rejuvenation. The O-Shot utilizes PRP, or Platelet Rich Plasma, to revitalize tissues and stimulate sensitivity within the vagina. PRP is found within your own blood and contains numerous beneficial growth factors that can be injected into strategically targeted areas. When combined with the FemiLift laser, the effects of each treatment are elevated to even greater heights and the results are remarkable.
At Aguirre Specialty Care we are dedicated to providing Denver area women with discreet and effective intimate wellness care. Board-certified Urogynecologist Dr. Oscar A. Aguirre has spent his entire career working to repair and enhance the function of the female pelvic floor and is excited to share his expertise with you! Call 303.322.0500 today to learn more and to schedule your consultation.