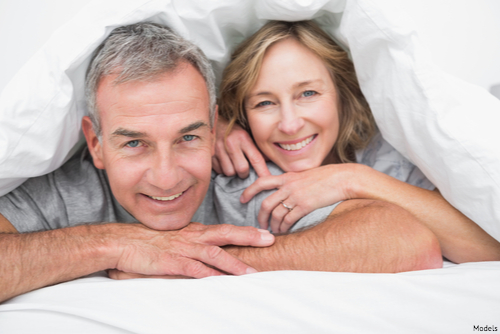 Let's be real. We live in a world that idealizes sex. Every movie and TV show we see depicts sex as an effortless, often spontaneous and always enjoyable endeavor that brings us pure ecstasy. The reality, of course, is that many couples work hard to schedule time for sex, while others struggle to even enjoy it. As for ecstasy? Sure, some of us may experience that sometimes, but we shouldn't feel bad about ourselves if we don't.
If your sex life doesn't look like the sex scenes in movies or TV shows, we want you to know that you're totally normal. Most people experience some form of sexual dysfunction in their lifetime. The reason we think we're abnormal is that we are subconsciously comparing ourselves to unrealistic ideals. If all we see is spontaneous sexual ecstasy, it's no wonder that we feel tragically lacking when we can't orgasm or don't ever feel like having sex with our partner, or we feel pain during intercourse.
Reality check:
1) You are not lacking
2) Sexual problems are a reality for many of us
3) Your concerns are treatable!
There's no need to experience a lackluster sex life any longer. We have the help you need at Aguirre Specialty Care, where our founder and medical director, Dr. Oscar A. Aguirre, is a board-certified and fellowship trained pelvic surgeon and urogynecologist who specializes in sexual dysfunction. He has dedicated his career to solving your sexual problems and helping you reclaim a vibrant and healthy sex life.
What's holding you back from loving your sex life? Here are a few common culprits and their solutions:
Pain
Pain during intercourse is common among post-menopausal women who can experience vaginal dryness resulting from lower estrogen levels.
For a lack of vaginal lubrication/chafing during sex, possible treatments include hormonal replacement therapy, FemiLift™ laser vaginal resurfacing, The O-Shot®, LEO® (laser-enhanced O-Shot) and Viveve™ RF treatment for enhancing vaginal sensation and tightening the vaginal entrance.
Pain during sex can also be caused by vaginal prolapse, vaginal atrophy or pelvic prolapse, among other things. Dr. Aguirre will perform a thorough physical exam with his dedicated team of experts to determine if you are experiencing a physical condition or combination of concerns. Possible treatments for prolapse include surgery to help strengthen the weakened tissues and supporting muscles and ligaments. Dr. Aguirre may also recommend a combination treatment with surgical and non-surgical solutions, such as The O-Shot and Viveve, depending on your unique needs and goals.
Shame
Are you unhappy or ashamed with your appearance? It's impossible to enjoy sex when you are unhappy with your body. Many women suffer silently, spending most of their lives feeling unhappy or ashamed with the size or shape of their labial skin or another aspect of their appearance. This is tragic because help is at hand! If you think your labia is too large or strange looking, or you are experiencing discomfort due to the size of your labial skin or another physical concern, it's time to visit Aguirre Specialty Care! Dr. Aguirre has performed thousands of successful labiaplasties and other vaginal rejuvenation procedures to help women reclaim their intimate vitality and confidence.
It's time to put your happiness first and schedule a consultation at Aguirre Specialty Care. You deserve to love your body and we are here to help! Call 303-322-0500 or request a consultation today.