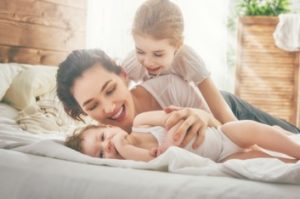 Want to know the difference between cosmetic surgery with Dr. Oscar A. Aguirre and cosmetic surgery elsewhere? Dr. Aguirre is one of the leading pelvic surgeons in the world, possessing years of training and expertise to enhance every aspect of a woman's body.
What this means for you as a patient is total body care and access to unprecedented surgical possibilities. For example, you may come in to tighten loose vaginal tissues and improve symptoms of stress urinary incontinence, but discover, after a personal consultation, that you can also undergo a tummy tuck during the same procedure. Other surgeons may offer similar surgeries, but only Dr. Aguirre has decades of urogynecological experience and elite training to provide award-winning surgical results.
Tummy tucks, also known as abdominoplasty, are popular among women who have undergone pregnancies, which often stretch out abdominal muscles and skin on the belly. Pregnancy and childbirth can also weaken vaginal muscles and stretch surrounding tissues, resulting in stress urinary incontinence, vaginal looseness, and other concerns. Dr. Aguirre has the expertise to help correct all of these common concerns in one efficient procedure. He also offers the most advanced surgical techniques for minimizing downtime and scarring. Why settle for addressing just one concern when you can enhance your wellness in so many fundamental ways?
See the outstanding results at Aguirre Specialty Care in our before and after photo gallery. Schedule your consultation today by calling 303.322.0500 or completing our online consultation request form.