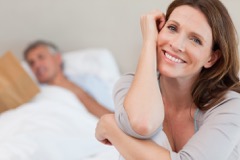 Do you feel something is lacking in your sex life? Inadequate sexual satisfaction, arousal, and desire are sometimes linked to lower self-esteem among women, which can also affect both their work and social lives. However, with an O-Shot® from Aguirre Specialty Care, you can revive your libido and achieve more pleasurable orgasms in as little as one session in our Denver, CO office.
These incredible benefits are exactly what Elite Daily contributor Emily McCombs discovered when she received an O-Shot treatment this past May, "The orgasms just seemed to get stronger and better, until they were lasting for what felt like minutes." She says after describing the procedure, "Overall, I'm about twice as likely to feel stimulated during sex and achieve orgasm, and those orgasms are stronger and better every time." Emily isn't alone, the O-Shot has helped thousands of women across the country reclaim their sex lives and feel confident in the bedroom once again.
The O-Shot in Denver utilizes Platelet Rich Plasma, or PRP, to rejuvenate the vagina and restore sensation to the most sensitive intimate areas. Naturally occurring PRP is drawn from your own blood and then reinjected into the desired area. It contains numerous growth factors that target the areas for increased sexual satisfaction and arousal.
As an expert in cosmetic gynecology, Dr. Aguirre understands the sensitive nature of intimate procedures, and always goes the extra mile to ensure his patients are completely comfortable with all aspects of their procedures. If you have any questions about the O-Shot or any of our other procedures, please call 303.322.0500 and schedule your consultation today!