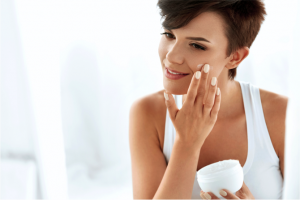 If there's one thing we've learned about health and beauty after a decade in service, it's that these two life essentials go hand-in-hand. A smart skin care regimen is key for a radiant complexion. That's why we only offer the highest quality skin care products, such as those from Jan Marini Skin Research®.
Voted the "Best Anti-Aging Skin Care System" by New Beauty Magazine for five years straight, Jan Marini products are a trusted skin care staple at Aguirre Specialty Care. What makes Jan Marini products so special is that they target a number of common imperfections, including uneven skin tone, acne, fine lines, and wrinkles while promoting overall skin health.
Want to rejuvenate your eyes? Age Intervention® Eye Cream and Marini Luminate Eye Gel can reduce the appearance of wrinkles and circles under the eyes for brighter, younger-looking skin around this delicate area. The Clean Zyme & Skin Zyme Papaya Cleanser and Mask gently exfoliates and hydrates the skin for a smoother texture. Our clients also love the Jan Marini Skin Care Management System™, which can help diminish fine lines and wrinkles for most skin types.
You deserve happier, healthier skin, and the confidence boost that comes with it! To learn more about the Jan Marini product line, call us today at 303.322.0500.