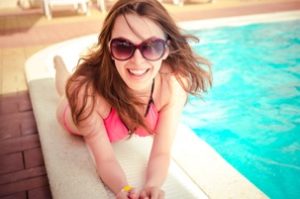 With swimsuit season around the corner, it's prime primping time! It also happens to be Mother's Day this month! We can't think of a better way to thank yourself for a job well done than by treating yourself to one of our services. It's the perfect time to get summer-ready so you can feel your confident best all summer long. You deserve it!
Banish Your Bulges—CoolSculpting
"Trouble" spots of fat have finally met their match with this non-invasive fat reduction treatment, which freezes and disables fat cells for the long term. With little to no downtime, CoolSculpting is a proven body sculpting tool that affords gradual improvements in the months following treatment. More than one treatment may be necessary to achieve your goals, but we can help you devise your ideal regimen during your personal consultation.
Sculpt A Better Bod—SmartLipo™ and VASERLipo™
If you want to see improvements fast, SmartLipo or VASERLipo™ may be a good fit for you, depending on your unique contouring needs and goals. SmartLipo uses laser energy to melt fat before it is suctioned out, resulting in less blood loss and trauma to the body for a quicker recovery period. VASERLipo utilizes advanced ultrasound energy to liquefy targeted fat while preserving the delicate surrounding tissues to gently reshape the body. SmartLipo and VASERLipo can help improve any area of the body, including the waist, back, buttocks and thighs.
We also offer Tummy Tuck, Vampire Breast Lift™, vaginal rejuvenation, labiaplasty, and much more, to help you achieve your best. To learn about the treatments that will help you reach your goals, please call 303.322.0500 or request your consultation today!